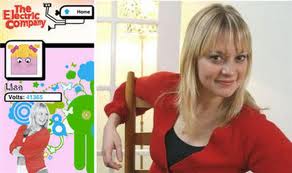 Lisa Heffenbacher is a character in the Electric Company who is absent in Season 3 because she has gone to university and was replaced by Marcus Barnes.
Personality
Edit
Lisa can easily get frustrated if things go wrong, and calls the electric company for help "Hey you guys". However, she is usually cheerful.
Relationships
Edit
Francine Carruthers
Edit
Francine is one of Lisa's arch-rivals.
Hector Ruiz
Edit
Hector is one of Lisa's best friends.
Keith Watson
Edit
Keith is one of Lisa's friends.
Annie Scrambler
Edit
Lisa has a mixed relationship with Annie.
Lisa has an unnamed mother, and is also a desendent of Cordelia Heffenbacher.
She can unscramble any anagrams that she finds scrambled, and can throw wordballs.
Lisa likes dogs.
Lisa's favorite movie is Brunch at Stephanie's.
Lisa's favorite sandwich is Turkey and Swiss on seven grain bread with a pickle on the side.
Lisa dislikes mayonnaise.